There are people who define it as a design process where future users and their needs are given central priority; we prefer to consider User Centered Design (UCD) as a problem-solving philosophy, allowing successful solution realization, since it satisfies users and companies in one go. A satisfied user is a more productive one, greater productivity leads to higher sales: this is the reason to invest in User Experience.
Every business exigency involves human beings, either direct users or project stakeholders; therefore, even before starting to develop a new sales, store management or goods and people traceability application, it is necessary to understand the issues to be solved as well as potential users' contexts and needs, implying them in the process from its very beginning.
These are the most outstanding phases:
Issue analysis: identify the problem the company must solve and the objectives fixed. Allow Sales reps to place orders even in absence of connectivity? Reduce reordering and inventory times at the point of sale? Understand whether every data collection device is active?
Context and User people analysis: identify those who will make use of the product, understand their habits, contexts and needs.
User Journey realization: a diagram illustrating the necessary passages a user must follow in order to complete an activity.
Prototype creation: this part of the process can be realised in various steps, starting from a concept to finally arrive at a complete prototype.
Prototype test: realise usability tests with users, in order to individualise potential anomalies and improvements, even before effective development.
In all these phases, interaction between User Designers, analysts, software developers and customers is fundamental.
Today, thanks to tools such as sketch and invision it is possible to collaborate in a fast and efficient way, from analysis to prototype valutation, up to the application effective development.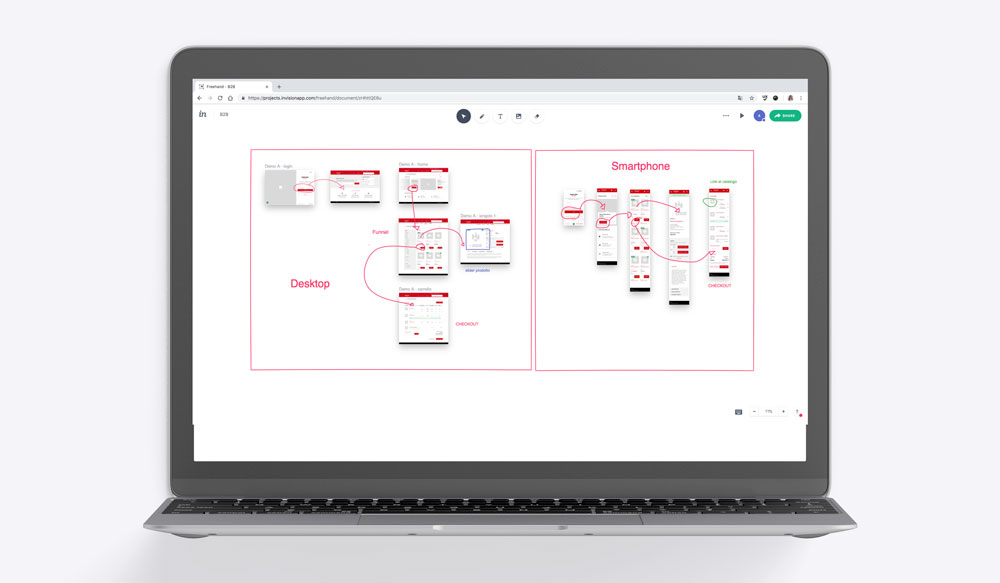 But why should an organization confide in a company that utilises UCD as an approach to realise order collection applications & CRM, onroad sales, B2B e-commerce, point of sale management and traceability?
Reducing risks linked to launching new ideas: products usually fall through when they do not satisfy the needs of the users they were intended for. By concentrating on users, we can build a solution which in turn satisfies business needs.
Producing better articles and services: UCD allows organizations to test hypotheses, better understand use context and concentrate on problem solving, to provide people and organizations with the maximum value.
Allowing project continuous visibility: as its development implies continuous mutual feedback, every single involved party has got maximum visibility of the project.
Increasing users' and business productivity: by concentrating on users' needs, the planned solution eliminates weak points and improves productivity. When it is possible for users to work in a more intelligent and productive way, they and their organization become successful.
Maximising ROI: realising the wrong project costs. Instead, thanks to a careful analysis of the user's needs, to his involvement in the various project phases, to the possibility of testing