From Düsseldorf to Stuttgart: from 19th to 21st February we have not only been at Eurocis, to find out all about new retail trends, but also at Logimat, to immerse ourselves in the world of logistics and company process management.
We have ventured among the stands, curious to discover the latest about RFID, a technology we are particularly fond of, without leaving out other key topics like RTLS, vocal technologies, proximity sensors and machine learning.
This is what we "have taken home with us":
RFID
The most interesting proposals are certainly associated to the presence of different technologies in one tag: this is the case of the Smart Cards containing an RFID UHF tag for distance identification and in high-density areas, the NFC technology for proximity identification or some sensors able to function as data logger (for example, temperature sensors for cold chain and anti-tampering sensors to certify correct goods condition on delivery). The latter become very useful in food processing companies, which must keep certain products at a given temperature/humidity level throughout the production process.
Another innovative application contemplates passive UHF label tag (that is, without a battery) to be applied to syringes and other medical containers in order to monitor the level of liquids inside and provide real-time data when reading is performed.
We have been intrigued by the adoption of high-resolution video cameras, able to identify the typology of objects going through a gate and calculate volumes in real time. Just try to imagine how useful it would be for a logistics operator to be able to know in advance how to prepare packages for shipment or where to position a given object in the warehouse.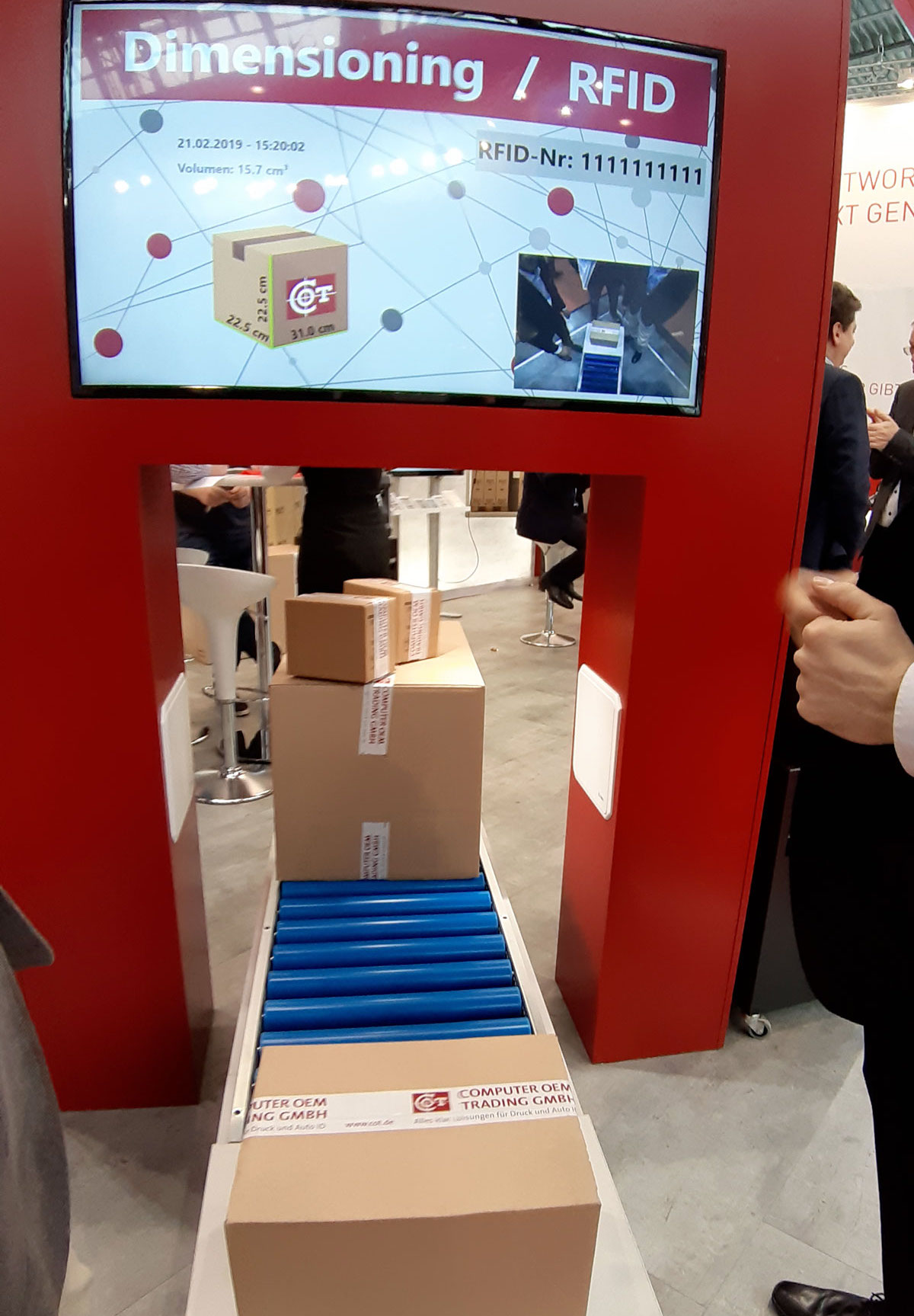 Vision systems via VR (Virtual Reality) or AI (Artificial Intelligence) are increasingly associated to identification technologies. We have also seen with our own eyes smart glasses and augmented reality paired to picking operations: in this case, the operator can rely on detailed and updated information, available at a glance.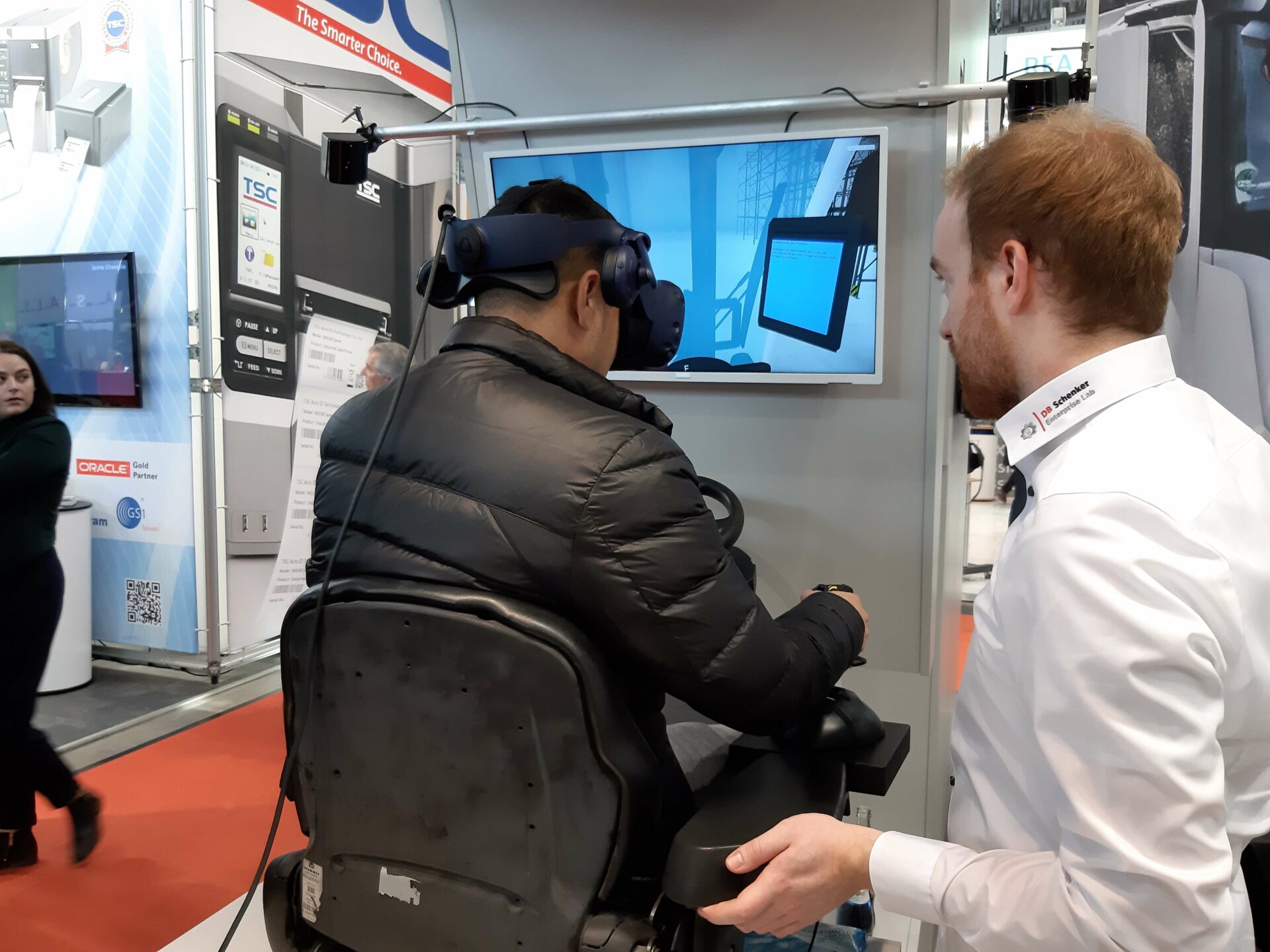 Vocal Technologies
This is how a clear trend towards vocal solutions has emerged, via dedicated hardware (for example, jackets equipped with speakers and directional microphones connected to devices without a screen or a keyboard) or via systems able to connect to the best-known vendors' devices, like Zebra or Honeywell.
Read also our article published a few days ago on the Lydia Voice vocal suite.
RTLS
Real-time locationing (RTLS) is one of the key topics in vendors' stands, as well as in those of integrators'. Co-existence of different technologies (among which RFID UHF, UWB and BLE) is now able to ensure a high level of granularity, up to few centimetres' precision. In some cases, the UWB signal triangulation is created by special access points, installed along the site perimeter, able to create a real mesh network among them.
Real-time availability of staff and visitors positioning inside a plant or offices is a fundamental element to watch over process security (access control) and operators' health in case of emergency or evacuation (to control in case of accident, fire or danger that all the staff have abandoned the risk area, individualization of subjects in difficulty, etc.).
Proximity Sensors and Machine Learning
The central idea among forklift suppliers is the presence of the autonomous guide which, thanks to video cameras, proximity sensors and machine learning software, ensures quick and correct pallet positioning in safety locations, without needing human supervision.
All the technologies we have been talking about above have a common feature: they support companies in internal process optimization.
Your special envoys,
Alberto & Nicolò