The trend to adopt an omnichannel sales strategy increasingly leads companies to enhance all sales channels.
In addition to the application for managing sales directly on tablets, there is an increasing demand for a solution that allows agents' customers to consult the offers reserved for them, manage a quick reorder under predefined conditions, quickly search for all documents (delivery notes, invoices, etc.) regardless of the purchasing channel used, using any device (smartphone, tablet, PC).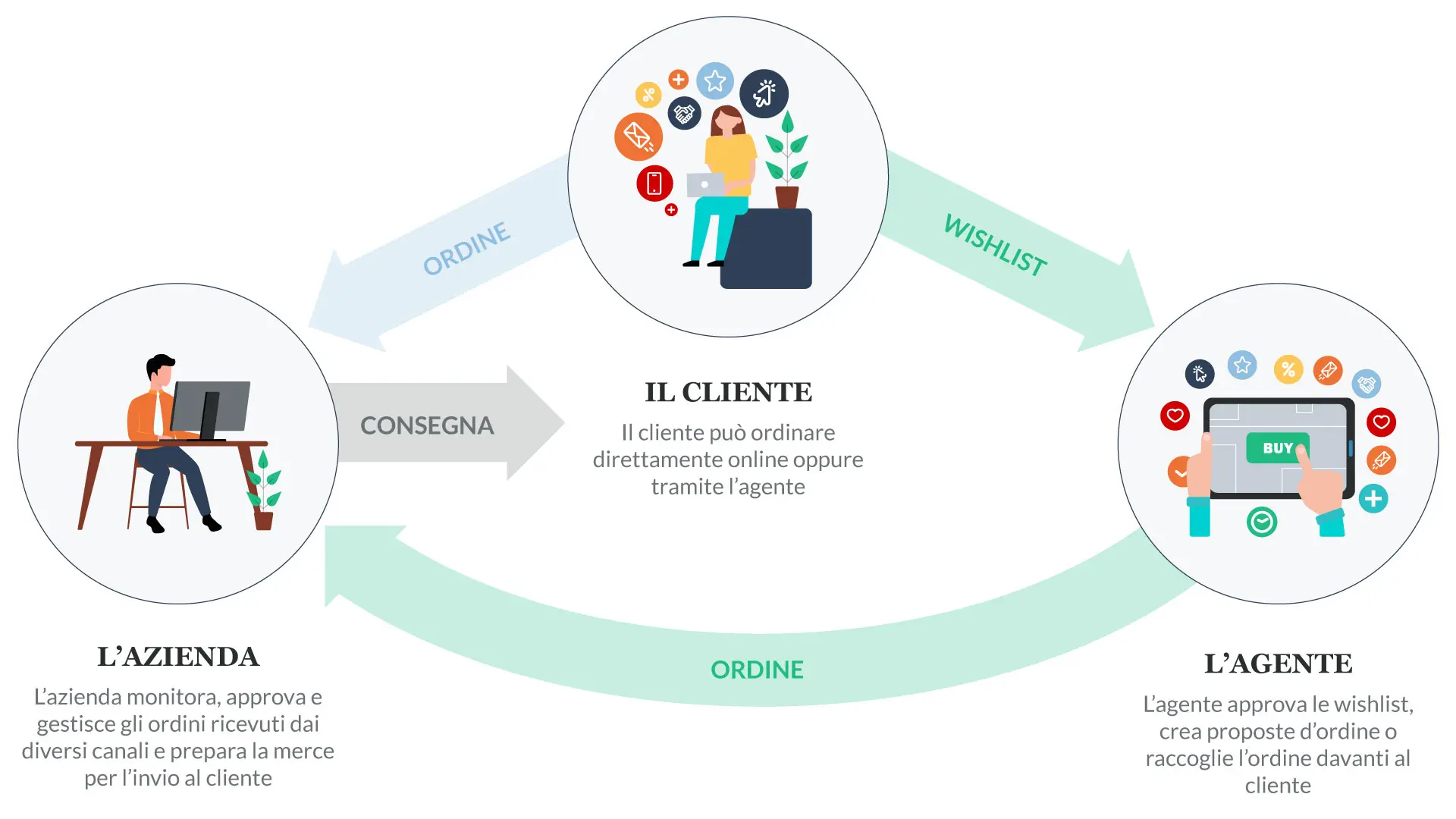 We have therefore created a B2B software platform with integrated e-commerce, accessible from the browser, which allows each player in the B2B channel (company-agent-customer) to obtain multiple benefits, such as:
For the company
To have an additional sales channel available: studies and research show that the propensity to buy on new devices increases
Having an additional direct and disintermediated communication channel that allows you to build customer loyalty and carry out personalised marketing activities based on the clusters of users you have reached
Improve the company's image and free up internal resources from time-consuming activities such as searching for and sending packing slips and invoices to customers, making this and other information available 24/7
For the agent
Focusing on relationship activities and the promotion of new products, and instead being relieved of the operational activities of mere reordering
Knowing the customer's needs in advance and being able to propose replacement or new products in good time
Reduce travel and visits in the face of consistent and frequent orders
For the customer
To be able to reorder at any time without the presence of an agent
Always have the product catalogue, order history, delivery notes and invoices at your disposal
To be informed in real time of current offers and promotions
Granarolo, Dac, Pregis, Gottardo (Tigotà), Camon, Cattel Catering are just some of our customers who are looking at B2B with interest.