The adoption of RFID (Radio Frequency IDentification) has a positive impact on business as it allows contributing to achieving objectives and making the Company's competitiveness grow, improving organizational efficiency and guaranteeing maximum consumer's safeguard.
We have been present in the RFID world since the mid-90's, when the first experimental UHF projects were realized; nowadays we feature successful cases in the fashion-luxury sector for Made-in-Italy safeguard and logistics optimization, in the manufacturing field for production and shipment monitoring, in Healthcare and in several International Agencies and Banking institutions for asset management.
Our reputation is well-known at an international level: RFIDJournal, the main RFID worldwide publication, has reported it and the onID software, on which our solutions are based, is present in 10 European Centres of Excellence: Accenture, Cisco, LIUC, CATTID, Politecnico di Milano, Torino Wireless, Aecoc, Università di Zilina, Politecnico di Torino and Università Firenze.

onID: Aton's Solution for RFID
onID, the RFID platform developed by Aton and chosen among the innovative solutions in the Italian Government's project Italia degli Innovatori, represents a historic breakthrough in the development of software applications. In contrast with traditional software, which imply code compilation and its installation on production systems, onID is modular and directly customizable in a production environment, therefore guaranteeing business continuity.
RFID: A Fashionable Technology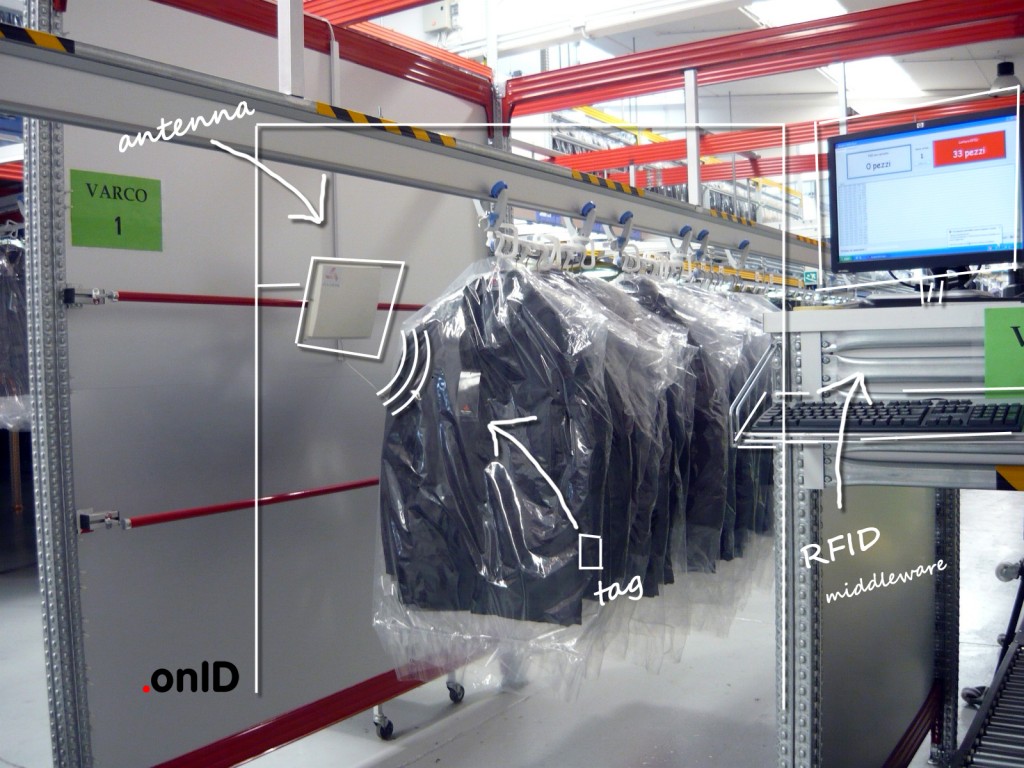 Fashion and RFID technology? A couple that works hand in hand, judging from the important brands that have chosen to adopt this technology: Poltrona Frau, LV, Peuterey,  Mauro Gasperi, just to mention a few ones. They are no longer master plans, but successful cases offering concrete and measurable results, G&P Net (brands Peuterey and Geospirit), for example, has registered a 50% reduction in shipment times, a 90% increase in packing phase, with Return On Investment in less than 6 months.
The RFID-UHF technology offers the Fashion world a range of solutions which cover the whole spectrum from supply chain control, thanks to the possibility of managing inventories and check ingoing/outgoing orders, to distribution safeguard in order to monitor apparel authenticity for the protection of the Made in Italy trademark and fight against the black/grey market, down to the outlet (retail) where, besides guaranteeing greater efficiency and efficacy in goods reception processes, inventory, goods transfers, cashdesk (sell out) and visual merchandising, it allows end-consumers to enjoy a customized shop experience, on the basis of what they have purchased or are wearing, while receiving real-time marketing and advertising information.
RFID & Industry: More Efficiency, Fewer Costs

The industrial context represents one of the spheres offering greater development prospectives regarding RFID technology, which can be used to govern internal processes, from production to warehouse stocking down to goods shipment, with tangible benefits in terms of production measurement. Coster Tecnologie Speciali S.p.A., multinational group, leader in the production of components for aerosol, spray and dispenser product packaging, and of machines for aerosol cylinder replenishment, has indeed obtained a 100% error reduction in the diverse process phases, from order preparation to delivery, a 20% reduction in item warehouse deposit per operator and a detailed visualization of the production process. But the Coster Group is not the only one to have adopted an innovative solution for a greater control on internal processes, also Pirelli and Tenaris have made that choice.
What Does Realizing an RFID Project Mean?
RFID technology allows identification of moving people and objects by means of special intelligent labels, able to transmit and receive short-wave radio signals. The tag microchip memory can contain a certain amount of information which identifies the object to which the tag has been applied and which can be read even without physical contact.
Developing an RFID project does not mean choosing a tag but re-ingeneering a Company process and integrating different systems.
Each RFID project has an identity requesting profound analysis and an ad-hoc solution proposal. We are supported by the main markets vendors: